Abstract:
Horion has a global market share of 8% in Q1-Q3 of 2020, making it one of the top 3 in the world!
The COVID-19 epidemic has promoted the demand for remote collaborative office. The Horion Smart Interactive Flat Panel, which has the application ability of multiple scenarios like screen mirroring, video conferencing, and whiteboard writing, has been acclaimed by many foreign customers with its high product performance and competitive price. Interactive Flat Panel shipments in Asia, Oceania, Europe, Africa, and the Americas are growing rapidly. Horion has a global market share of 8% in Q1-Q3 of 2020, making it one of the top 3 in the world!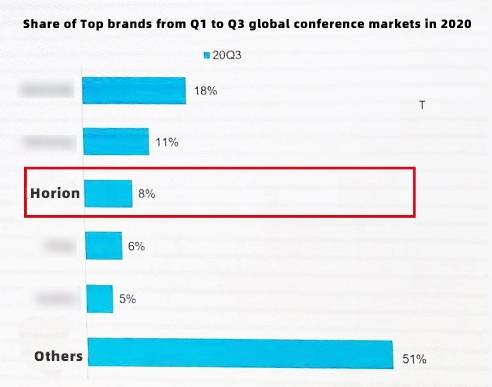 All Horion products are independently developed and produced, which guarantees high product performance and supply demand. In terms of service, Horion insists on taking user needs as the core and has a complete pre-sale, in-sale and after-sale service system to provide customers with targeted solutions.
With the increase in shipments in overseas markets, in order to ensure the quality of Horion's customer service, the Horion Shenzhen Headquarter held a number of training sessions, in which product technology, usage specifications, common problem solutions and other course contents were explained in detail by means of video conferencing to help overseas agents solve related service problems.
"Horion's product features are applicable to many scenarios. The knowledge learned through this training can help me guide customers to use the product, which is great," said a Horion foreign agent.
In Horion Shenzhen Headquarter, we have an R&D center with more than 700 people, most of whom are scientific research talents from Chinese universities. The R&D center has established a dedicated user experience department. Based on the product experience data of market customer research, R&D personnel have been continuously optimizing the product performance, and continuously upgrading the terminal system of each Interactive Flat Panel through OTA online upgrade. In addition, a series of difficulties encountered in the process of using the product are summarized in time, and overseas agents are trained in a timely manner in the form of training sessions to help them improve their guidance on services for users, so as to build a systematic user service training system.
Quality products and service experience are important reasons why Horion Interactive Flat Panel is favored by users all over the world. Horion will help our overseas agents better serve users by building a systematic service training system and regularly holding online video conferences and training sessions.