Abstract:
China Educational Equipment Exhibition, which is one of the top 100 exhibitions in China and known as the vane for educational equipment market, ended successfully in Chengdu...
China Educational Equipment Exhibition, which is one of the top 100 exhibitions in China and known as the vane for educational equipment market, ended successfully in Chengdu. Horion was invited to attend this exhibition and displayed its latest research and development achievements in the field of intelligent education, which brought numerous amazing educational black technologies to the educational industry and attracted the most attention of the audience in the exhibition.
Driven by educational reform and technological change, Horion is injecting new vitality into the whole industry and bringing benefits to the industry by leading technologies. Horion has displayed its new solutions and products of intelligent education in this exhibition, which showed its new ecology of intelligent education characterized by mutual communication, complete equipment and collaborative services, advancing with the development trend of education in the new era.
Blackboard writing with chalks is an essential element in our memory in the classroom. Nowadays, the blackboard, an educational tool we are familiar with, is constantly innovating under the impetus of the development of science and technology. Horion takes smart blackboard as the core hardware equipment, breaks the traditional teaching methods, brings a variety of solutions for intelligent education, and is committed to providing better educational environment and classroom experiences for teachers and students.
"Traditional Classroom" Solution
Easy Teaching and Active Learning
Horion Smart Blackboard integrates traditional blackboard, intelligent panel, camera, microphone and loudspeaker as a whole, realizes many practical functions such as touch interaction, multimedia teaching and chalk writing, and seamlessly connects traditional blackboard with interactive display screen, which can meet diversified teaching needs.
u Integration of Touch and Display Realizes Multi-person Interaction
The middle touch & display screen supports 20-point touch function and multi-people collaborative writing, so that the students may answer questions at the same time and interact more actively in the class. Moreover, the back of the hand can also be identified to erase, and can select to delete or clear the screen.
u Diversified Display and Colorful Teaching
Under the whiteboard function of Horion Smart Blackboard, the users may insert common figures such as rectangles and circles and three-dimensional geometric figures at hand, and click and use drawing tools like set square, compasses, etc., and matts needed in Chinese class.
u Wireless Booth and Automatic Identification
The users may freely take photos for books, notes, exercise books, test papers, handwritten teaching plans, courseware, etc., and display on the blackboard in real time through the wireless booth.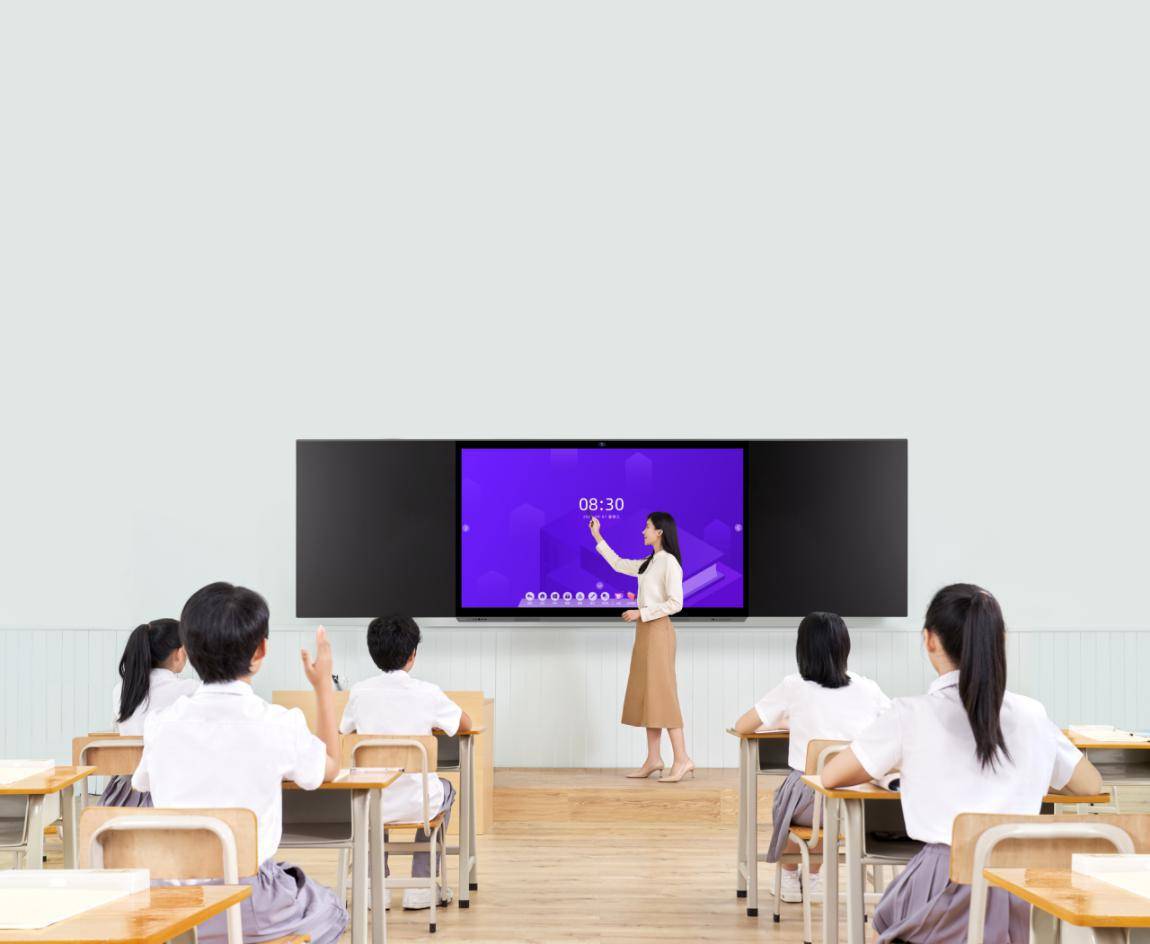 "Three Classroom" Solution
The Students May Have the Same Class In Different Classroom
With the "Three Classroom" Solution, Horion can build interactive teaching scenes through clear, smooth and stable live broadcast and recorded broadcast, and realize diversified teaching modes such as famous teachers' live teaching and interactive teaching and research in different places, so as to help weak schools to solve problems such as lack of teachers and resources, weak teaching abilities, and large gaps in education quality among different regions.
u Real-time Synchronous and Interactive Live Broadcast
Courses in the main classroom are broadcast live to other sub-classrooms, so that synchronous and interactive teaching in different places can be realized, and all students can share high-quality resources.
u Really Represent the On-site Teaching Scene
In the class, the lecturer can switch teaching scenes with blackboard writing, courseware and videos, so that students in remote places can interact with on-site teachers and students in real time.
u Excellent Courses Recording
On-site teaching process can be recorded in multiple scenes, meeting the requirements of teachers for making excellent courses, editing and reviewing, and helps polishing and making excellent courses.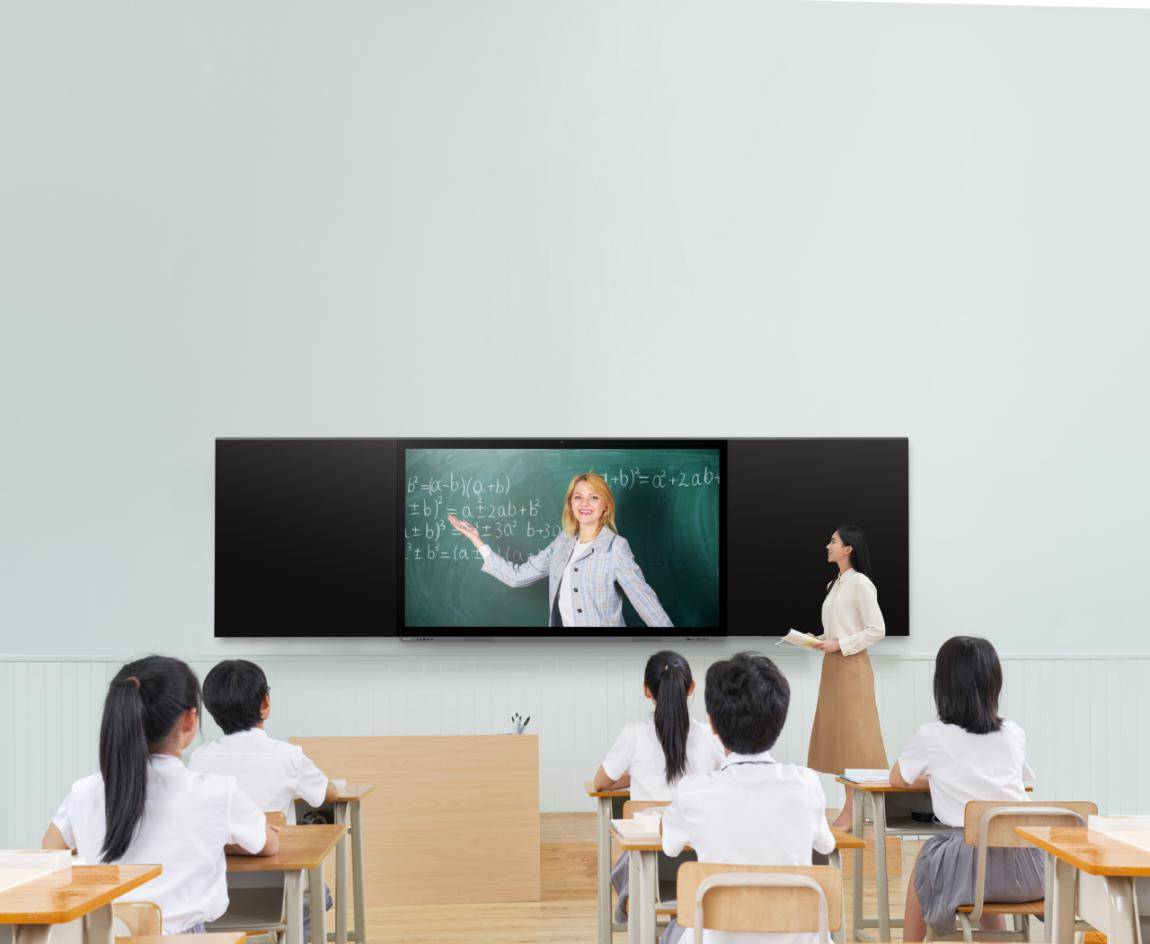 AR Teaching Application Solution
Do Magic on the Blackboard and Make the Classroom "Active"
Traditional teaching methods are demonstrated by reading textbooks and oral explanations by teachers. Horion AR teaching application solution is based on a large bilateral infrared smart blackboard, and adopts AR technology to build a virtual 3D model and present it in front of students. By combining virtual and real images, the teacher may enhance learning experience and spatial imagination of the students, and make the classroom really active.
Interconnected Blackboard Solution
The Main and Sub screens Are Interconnected to Upgrade the Classroom at Low Cost
Horion provides a low-cost upgrade solution for the original classrooms equipped with all-in-one teaching machines and greenboards. By removing the greenboard and installing the interconnected sub-board, the ordinary all-in-one teaching machine can be upgraded to an interconnected blackboard, meeting the requirements of traditional blackboard writing and electronic blackboard writing.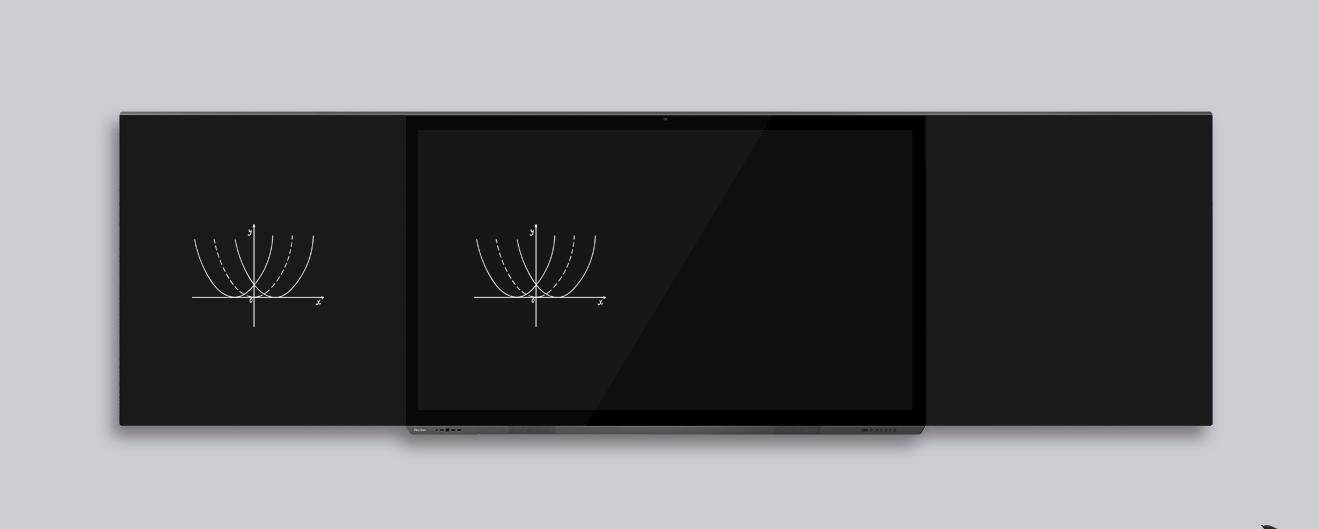 Horion innovates and demonstrates the series of new intelligent educational programs on the basis of its own business development and technical research and development strength, and contributes to the intellectual education and speeding up the pace of education reform and development. At present, Horion Smart Blackboard has been applied in some classrooms of primary and secondary schools. In the future, some new intelligent education schemes will be applied, and the new educational forms will gradually appear before our eyes in the future.